Touchstone Roofing, LLC has carved out a distinguished place in the history of top-tier roofing by obtaining the esteemed GAF 2-Star President's Club Award. This honor is a reflection of the company's dedication to outstanding service, superior craftsmanship, and an unwavering commitment to being the best in the roofing business.
What is the GAF 2-Star President's Club Award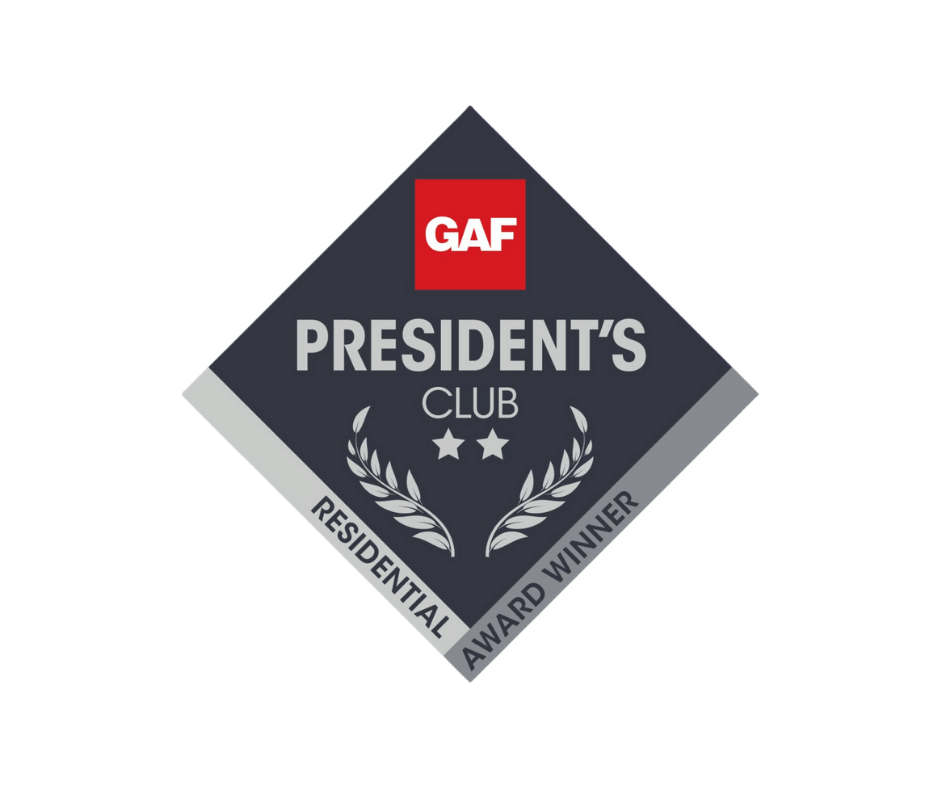 The GAF 2-Star President's Club Award is not merely a plaque or a ceremonial title; it is a rigorous benchmark of industry-leading performance set by GAF, North America's preeminent roofing materials manufacturer. The distinction serves as a beacon, guiding homeowners to the pinnacle of roofing mastery and consumer protection. Achieving this level of recognition from GAF is akin to a university attaining the highest accreditation—it speaks of unwavering dedication to quality, ethical practice, and the continuous pursuit of knowledge.
The Rigorous Path to the President's Club Award
Attaining the President's Club Award is an arduous path. Roofing contractors must demonstrate exceptional competence across several criteria:
Superior Workmanship: This involves not only flawless installation but also a deep understanding of material science and engineering principles applied to roofing.
Robust Consumer Protection: Award recipients must show an unparalleled commitment to safeguarding their customers through comprehensive warranties and transparent business practices.
Advanced Professional Training: Contractors must undergo advanced and continuous training, ensuring they are at the cutting edge of roofing technology and application techniques.
For a roofing contractor, this is the professional gauntlet that few can claim to have successfully navigated.
Touchstone Roofing's Dedication to Excellence
Touchstone Roofing's chase for the prestigious GAF 2-Star President's Club Award was about more than just winning a prize. This achievement represents the company's steadfast dedication to providing top-tier services and its deep sense of responsibility to the customers and neighborhoods it supports. We hold a core belief that outstanding roofing work is essential—it's the shield that safeguards our most precious spaces, our homes, and places of business. This conviction propels Touchstone Roofing to exceed the norm and set a benchmark in the roofing sector, acknowledging that a roof is more than just layers of shingles; it's a fundamental protector of our lives and livelihoods.
The Implications for Homeowners
For those who choose Touchstone Roofing, the GAF 2-Star President's Club Award is a promise that their experience will be supported by exceptional skill and honest practices that are in line with the elite criteria of the GAF President's Club. Essentially, when you hire Touchstone Roofing, you're teaming up with a company whose work doesn't just fulfill industry benchmarks but actually pushes beyond them.
The rise of Touchstone Roofing to this esteemed level of roofing achievement is a clear signal to anyone in need of roofing services that prioritize meticulous craftsmanship, strong warranties, and the guidance of leading professionals in the roofing industry.
To our valued customers, we offer our sincere thanks. Your confidence in us has been the foundation of our path to excellence. We are committed to maintaining the high standards associated with the GAF 2-Star President's Club Award in everything we do moving forward.